HIRE A VIRTUAL ASSISTANT OR MANAGE THE BUSINESS INHOUSE?
Looking To Hire A Virtual Assistant – For 24X7X365 Days Seamless Business Support Operation! A Can Do All Virtual Assistants?
Gone are the days when businesses believed in keeping everything under one roof to run things smoothly and in the desired manner. It used to be quite difficult coordinating with the Virtual Staff you hired a few years ago.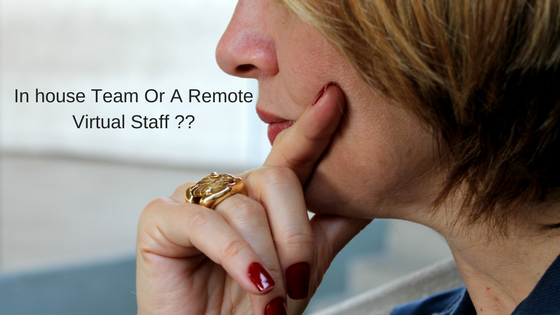 However, with the staggering increase in the volume of Virtual Assistants or Online Personal Assistants, it's not that easy to find a reliable, cost-effective, and flexible resource.
In such a case, an agency or a business support center is a thousand times better than a freelancer. While there are many positive reasons for hiring an agency, there is just one drawback, the service pricing is always a little higher than what a freelancer charges. They say quality always comes with a price!! And that is so very true.
Few of the reasons, hiring an agency is worthy enough:
The agency has a management which does generally take care of the team member who is assigned to work on your project or business requirement.
Has descent systems and a stable internet connection to run the operations seamlessly.
Has a specialized and dedicated staff to train the new and the existing resources.
Has a capability to back the Assistant and the required technical equipment.
Has a capacity to scale up or down the working hours and the Virtual Assistants as demanded by the client at any particular moment.
Having said these, it doesn't mean that the show can't be on when it's run by a freelancer. It simply means that human needs a backup and good systems to accomplish the awarded tasks on time.
India has always been one of the favorite destinations for outsourcing any of the virtual or remote jobs by businesses in the States.
It's understood that few businesses could be much inclined towards local essence to the support its end-consumers would receive. In such cases, the businesses should plan out the mundane tasks that could be taken care of by the remote team or the virtual assistants, as it would definitely help the in-house team to focus on what they are good at.
Most of the businesses would definitely prefer these support agencies to be providing customized support package.
– Donald Keith (Founder & CEO – OutsourcingHelpers.Com)
Donald Keith has been in and out of the states studying different businesses and their day to day operational problems and deriving the solutions for quite a time now. He also has been running a complete business support agency: technical and non-technical, for the last 10 years, successfully.
His team has been assisting several entrepreneurs and enterprises throughout the states in taking care of a part or parts of their business operations virtually.
He believes in nurturing a team of virtual assistants to be happy and mindful about the projects they are placed on. This comes with an intensive study of the business and the client's expectations.
Smooth customer communication over phone, emails, and social media and continuous operational readiness have been two of his major focuses.
Get in touch with him via email: info@outsourcinghelpers.com or phone:   +1 415 234 3314 and he would offer you a great deal with the customized solution for anything that you are looking to outsource right from Customer Support to Admin Operations to Website Designing to Software Development to IOS or Andriod Mobile Application Development.